What I'm Reading: Peach Mag
Peach Mag is a Buffalo-based literary magazine that publishes literary and visual art pieces on their online journal, as well as their annual print anthologies. They also host events and readings, participate in activism projects, and host an apprenticeship program for emerging teen editors.
Basically, Peach Mag is a really cool, bad-ass literary magazine that I'm obsessed with. Here's why you should be obsessed too.
Specifically, I want to discuss their print anthologies (known as "yearbooks") because their Season 4 Yearbook recently came out. They're called yearbooks because contributors are asked to contribute something extremely new or old in comparison to the piece originally published in their online magazine. Each contributor, therefore, has two pieces in the magazine demonstrating their growth as an artist in some form.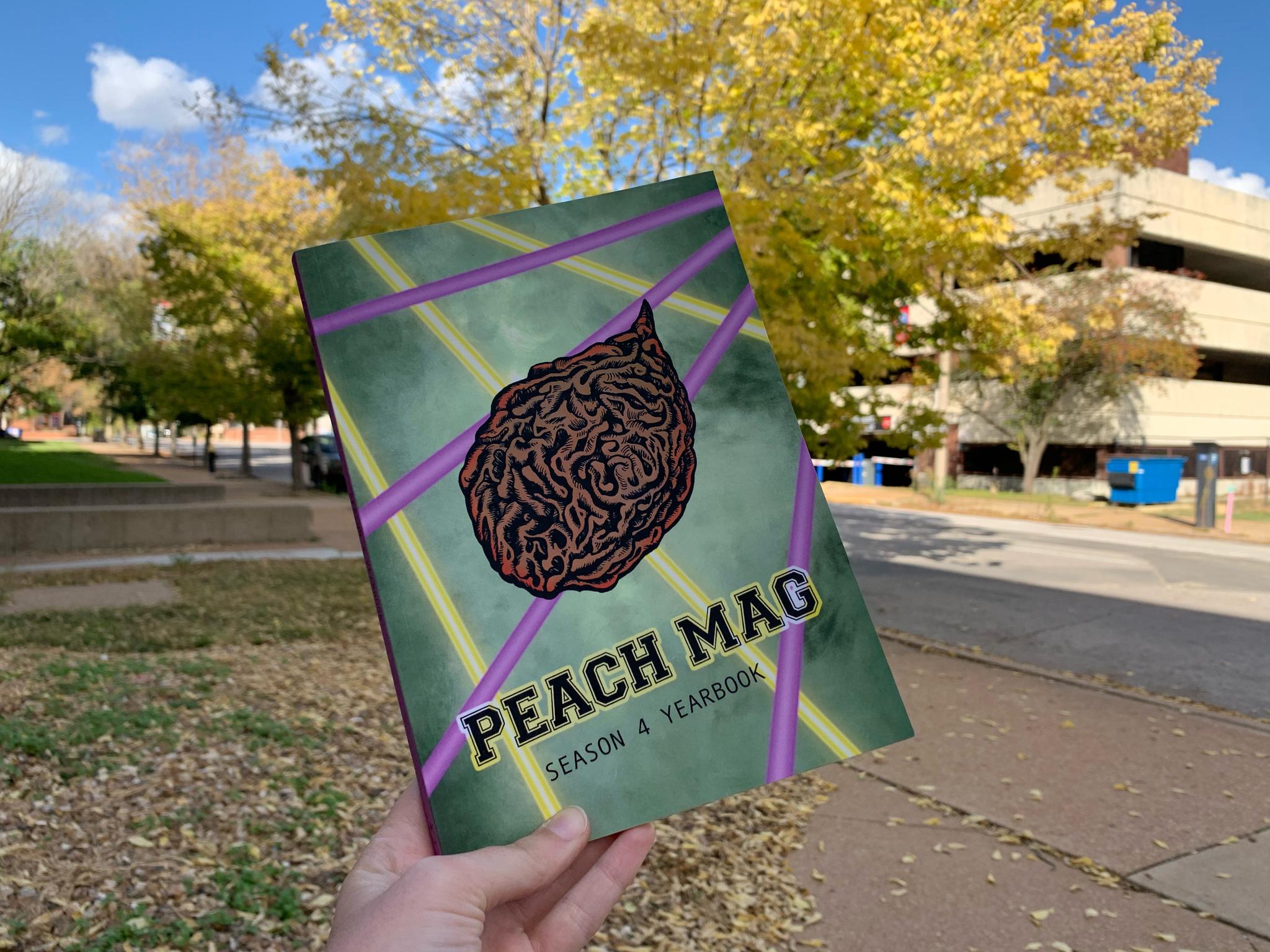 I love this setup for a lit mag because I get a better sense of that writer's style. Their ideas and writing strengths are much clearer within this format. It's also so inspiring to see the growth and development they've undergone.
For example, I can see the difference in the pieces by Kevin Thurston in Peach Mag's Season 1 Yearbook. The first set of poems are much shorter and simpler than the new poem, "poem of uncertain duration & order."
This second new poem is really interesting because it can be rearranged by the reader to create different versions of the piece. Each line is like a segment, which Thurston encourages to be cut out into strips and shuffled around.
I've never seen an interactive poem like this, and I find it really cool. Usually poems are so specific with their format and order of stanzas, but this poem is meant to be played with. Readers are meant to put their own spin on the poem. My friends and I each tagged each other as one of the segments, and I'm "Siri, where can I get my nose pierced?"
How I came to be passionate about Peach and how it's inspired me
I don't really know why I purchased Peach Mag Season 1 Yearbook from Talking Leaves Books when I did, but I'm so glad I spent the $15 dollars. I was a freshman at Canisius College, probably there to get coffee from Café Aroma, and I saw Peach Mag in the local section. I vaguely remember having heard of Peach Mag in class at some point, but it was pretty new at the time, so I didn't know much about it at all.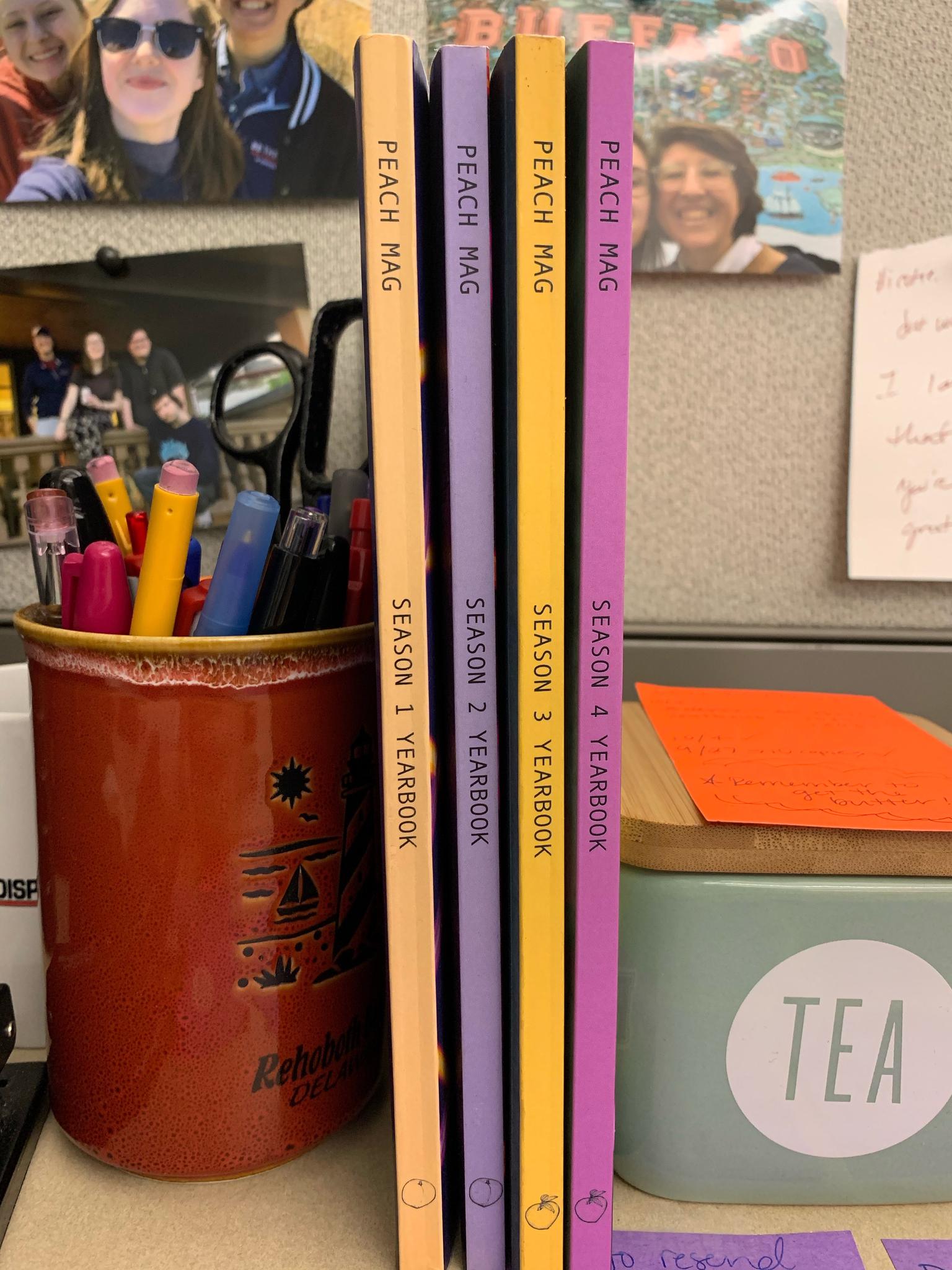 When I brought my new copy back to campus and showed my friends, they validated my purchase by being so excited and jealous of me. We took turns with it throughout the week, each of us reading poems in between our classes and underlining our favorite lines.
The book is now filled with different colored pen marks and notes in a variety of handwritings. In this way, it feels a bit like my own personal yearbook.
For some reason, Peach Mag excited me and my friends so much. We were all in the English and creative writing program at Canisius, so we were already interested in literary arts in general. Peach Mag not only showed us that there was a place for that interest, but also that this place existed in Buffalo.
I write poetry, but I don't know if I'm any good. I want to get better. As someone who's always been obsessed with notebooks, books and writing, it makes sense that I'm drawn to the art of poetry.
Reading Peach Mag is personally inspiring to me because I identify with this group of writers. Peach Mag is full of contemporary writers and artists, some of whom I know and have met. Professors whose classes I'd taken at Canisius have been published in Peach Mag, and I've been able to meet a few local Buffalo writers through events or through interviewing them for The Griffin Newspaper.
All of them have been so welcoming to me in participating in Peach Mag's events and community. I've been welcomed at events, they share articles I post on social media, and they are always so friendly to me. I'm so grateful to be surrounded by such talented and genuinely nice Buffalo poets. It makes me feel like I can be included in this community even when I don't feel like my poetry writing skills are at their peak.
You don't have to be a poet or a writer to enjoy Peach Mag
It is so fun to read poetry! Peach Mag is the perfect publication to ease into the poetry scene because it's very approachable. In addition to poems, there are several short fiction pieces, visual artwork and photography.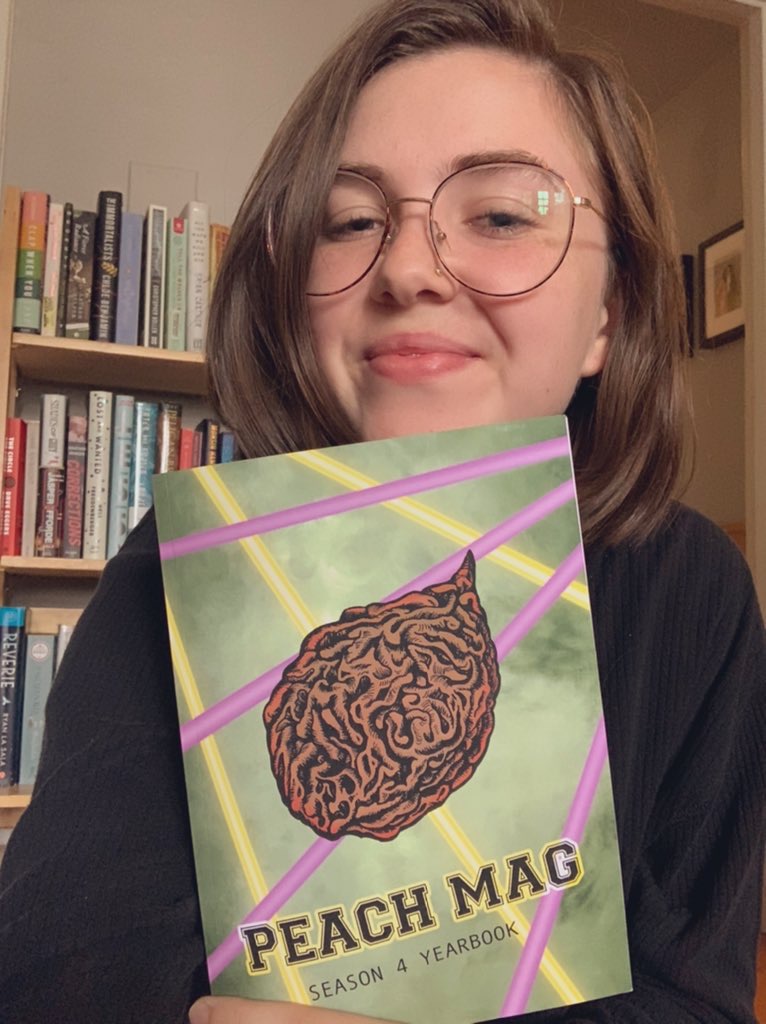 You don't have to fully understand or like every poem, but that's why there are so many poems by different people in the magazine. With the amount of variety in voices, form, tone, length and subject, there is something for everyone in Peach Mag.
Peach is a fundamental piece of the growing literary community of Buffalo, which is another reason to support them. Their events and readings connect this community, and they promote social justice and activism. Their events are always hosted at local coffee shops, breweries or stores, which further endorses local Buffalo.
One of my favorite events of theirs that I've attended was the Season 2 Yearbook launch, which took place at Resurgence Brewing Company. I went with my friend Janelle, and we bought copies of the book and heard a few of the writers read their work. The poems I heard live at this event have continued to stick out to me as I page through the yearbooks.
*************************************************
My Favorites: A Peach Mag Starter Pack